Want to receive our free newsletter and other valuable offers?
Visit Jim's favorite farm market, Dean and Don's Farm Market, on Warwick Blvd. in Newport News, VA
Did you know in Virginia it is against the law to help or rescue an injured, abandoned, or sick wild animal?
So, what should you do?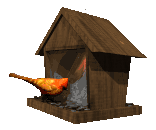 We are located near CNU on Warwick Blvd. & Glendale Rd. in the Glendale Shopping Center where there is plenty of parking. We even have carryout service in an old-fashioned red wagon. See map below.
From Norfolk: Take I-64 West to J. Clyde Morris Blvd. South and drive south approximately 3 miles to US Route 60 (Warwick Blvd). Turn right onto US Route 60 West (Warwick Blvd) and drive approximately a mile to Glendale Rd and turn right just past Glendale Rd to find the Glendale Shopping Center.

From Richmond: I-64 East to Oyster Point Rd. West and drive west for approximately 2.5 miles to US Route 60 (Warwick Blvd). Turn left onto US Route 60 East (Warwick Blvd) and drive approximately 2.5 miles to traffic light at and make a U-turn. The Glendale Shopping Center is on the right side of Warwick Blvd.
Seasons changes and so do the birds that migrate through the Tidewater region of Virginia. Having the right kind of bird seed, feeders and bird houses can attract these passing birds. Did you know you can email us your questions about bird seed, bird feeders and bird houses? It's easy, just click on our email address: info@wildwingsnnva.com.

Inclement weather may impact store operating hours. It is always a good idea to call ahead when threatening weather is in the area.

Did you know you can update your customer profile, securely and safely online, any time of the day or night? Just click on UPDATE.

If you no longer wish to receive email from Wild Wings Nature Store, then click REMOVE. Please allow 24 - 48 hours for the request to be processed.
Privacy Statement
All customer information is secure, confidential, and private.
We do not sell, lease, rent, or otherwise distribute any customer information to any third-party agencies, companies or individuals.
Copyright © 2017, Wild Wings Nature Store, Newport News, VA 23606. All rights reserved.