Want to receive our free newsletter and other valuable offers?
Visit Jim's favorite farm market, Dean and Don's Farm Market, on Warwick Blvd. in Newport News, VA
Did you know in Virginia it is against the law to help or rescue an injured, abandoned, or sick wild animal?
So, what should you do?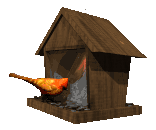 Privacy Statement
All customer information is secure, confidential, and private.
We do not sell, lease, rent, or otherwise distribute any customer information to any third-party agencies, companies or individuals.
Copyright © 2017, Wild Wings Nature Store, Newport News, VA 23606. All rights reserved.